Forecast for EUR/USD on November 15, 2019
On Thursday, due to new difficulties in relations between the United States and China (China is resisting the signing of a clearly unprofitable trade agreement for it), investors chose to close their positions due to the uncertain economic data for Europe and the US that are coming out today, right before strong technical support (1.0985). The price exceeded the MACD line, the Marlin oscillator showed a reversal, but these are not yet sufficient conditions for significant growth, the situation is typical for correction. With the return of the price under the MACD line, the next wave of activity in euro sales is likely. We do not expect a correction above the Fibonacci level of 123.6% (1.1073).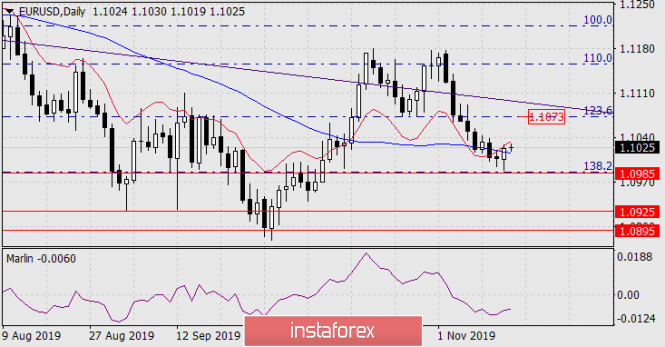 On the four-hour chart, the Marlin signal line entered the growth zone, while the price remains below the MACD line. The exit of the price above the line (1.1035) will allow the euro to develop a correction. This can be prevented by economic indicators; The eurozone trade balance for September is expected today to fall from 20.3 billion euros to 18.7 billion, US retail sales are projected to grow by 0.1% in October from -0.3% in September. Concern is caused by industrial production in the US for October, the forecast is -0.4%.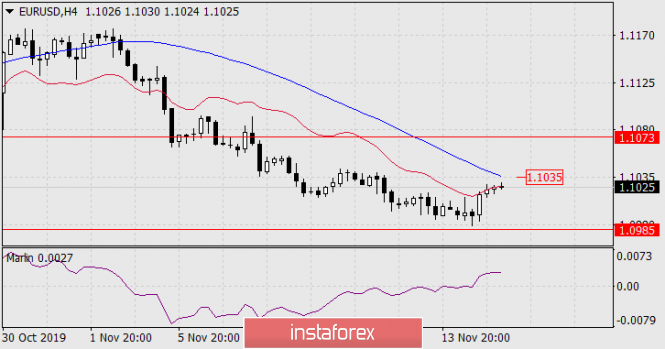 So, after the correction is over, we are waiting for a new round of euro decline. Overcoming the first support at 1.0985 opens the way to the second goal 1.0925. *The market analysis posted here is meant to increase your awareness, but not to give instructions to make a trade.