CRYPTONAIRE WEEKLY MAGAZINE 175TH EDITION IS OUT NOW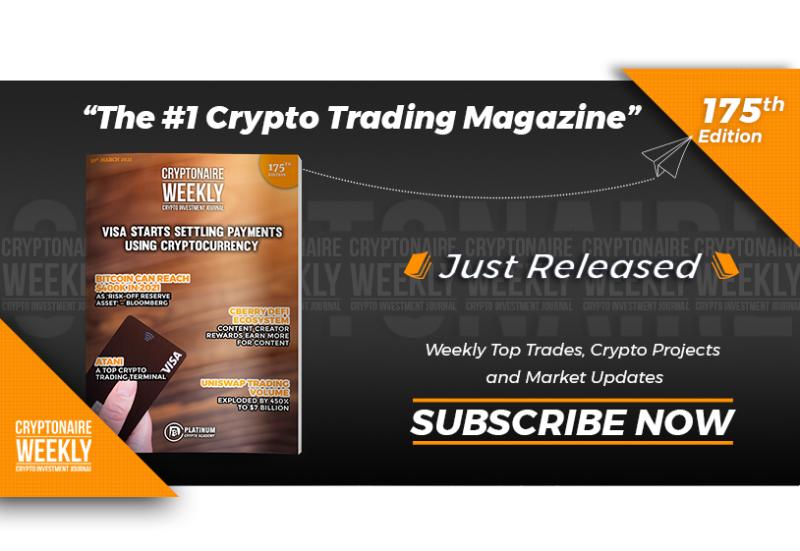 The #1 CRYPTO TRADING MAGAZINE

WEEKLY TOP TRADES, TOP PROJECTS AND MARKET UPDATES



Visa Inc announced on Monday that it is running a pilot where it will allow its partner payment and crypto platform Crypto.com to settle transactions done on its payment network using cryptocurrency USD Coin. Visa plans to introduce this facility to its other partners in the future. This is a major boost to cryptocurrencies as it will increase the use of digital assets as a payment system in the real world.
However, Ray Dalio, the founder of the $150 billion hedge fund Bridgewater Associates, said to Yahoo Finance that every country wants to preserve its monopoly and does not want other monies to be competing or operating. Therefore, Dalio believes that Bitcoin will be outlawed similar to how gold was in 1934 by the Gold Reserve Act.
OUR BLOG ARTICLES FOR THIS SPECIAL ISSUE ARE ATANI – A TOP CRYPTO TRADING TERMINAL & THE CBERRY PROTOCOL – CONTENT SHARING SYSTEM ON THE BINANCE SMART CHAIN
Bitcoin broke below the £38,355 support on March 25 but the bears could not crack the 50-day SMA support. This could have attracted sharp buying from the bulls and short covering from the bears who went short below £38,355.
The BTC/GBP pair rose back above the 20-day EMA on March 26, indicating the breakdown was a bear trap. On March 29, the bulls pushed the price above the downtrend line. If they can sustain the breakout, the pair may retest the all-time high at £44,238.
A breakout of the all-time high will signal the resumption of the uptrend, with the next target objective at £50,000. The upsloping moving averages suggest advantage to the bulls but the negative divergence on the RSI signals caution.
The bears are unlikely to give up without a fight. They will mount a stiff resistance in the zone between £42,000 and £44,238. If the price turns down from this resistance zone and breaks the 20-day EMA support, the bears will again challenge the 50-day SMA.
Repeated retests of a critical support level tend to weaken it. Therefore, the next dip toward the 50-day SMA might break it. If that happens, the pair could start a deeper correction to £31,005.
The chart setup looks like the price may remain range-bound with a negative bias. Hence, we are not recommending any fresh long positions at the current levels.
FEATURING IN THE 175TH WEEKS EDITION
– Cberry

– QoinIQ

– Atani

– Aubit

Read More
CRYPTO TRADE OPPORTUNITIES
Visa Starts Settling USDC Stablecoin Payments on the Ethereum Blockchain
Kraken's Dan Held Says Arrival of Institutional Herd Could Ignite Intense Bull Market
The pandemic is turning fracking companies into Bitcoin miners
Japanese bank Sumitomo Mitsui launches the country's first 'a-1' rated security token
ATANI – A TOP CRYPTO TRADING TERMINAL
CONTENT CREATOR REWARDS EARN MORE FOR CONTENT – CBERRY DEFI ECOSYSTEM
#CryptonaireWeekly #platinumcryptoacademy #Binance #Bitcoin #Ethereum #Ripple #Litecoin
#CBerry #CBerrytoken #Ecosystem #DeFiSwap #ATANI #DayTrading #BTC #digitalcurrency
#AuBit #aubitnetwork #fwt #Freewaytoken #QoinIQ #QoinSuit #digitalcurrencymarket #ATANI #DayTrading
#Cryptocurrencyexchanges #digitalexchange'